Hey everyone! Well, now that we have been doing this Covid-19 thing a while, we have adjusted some minor things we were doing.
Online Classes: We are still offering online classes and online testing for those not feeling comfortable coming to in-person classes. If you initially tried the Zoom classes and didn't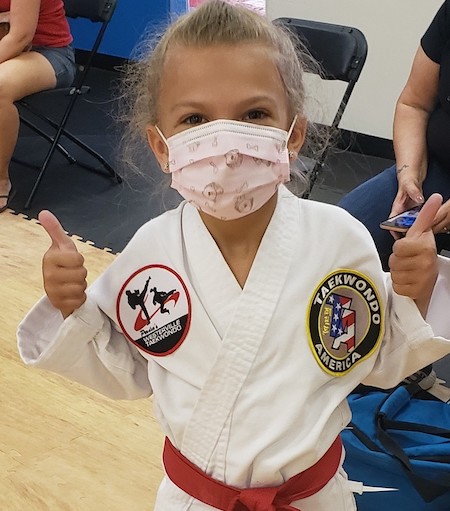 like them, give them another try! We got better at it!
In-Person Classes After every class, we clean everything touched by the students. We now clean and disinfect the school each day with hospital-grade cleaners every night.
All Students must enter the FRONT door and have their temperature taken.
When possible, shoes are to be PUT IN THEIR GEAR BAGS.
Everyone coming into the school will use the disinfectants at the cleaning stations in the lobby.
Both hands and feet must be wiped down with sanitizer.
We ask parents not to be in the lobby.
If a parent wants to see what we are doing in the school before deciding to attend in-person classes, please do so before class times when no students are in class.
All students and instructors must wear masks.
As well as anyone entering the school Students, whenever possible, should observe proper social distancing. (2 mat squares!)
The number of students is going to be capped for each class and everyone must schedule what classes they will be attending.
The schedule is recurring each week. Changes can be made if room is available in another class.
No Uniform or Belts! Since most students don't have multiple uniforms, rather than force parents to wash uniforms multiple times a week, we feel it is more convenient for parents if we all just wear standard athletic wear for now.
Come in clean clothes Sparring is optional.
Those students that spar must clean their hands, feet and gear immediately after sparring.
Merchandise— We are still selling merchandise. To make things easier and more socially distant, we are asking that purchases go through Stacy.
Any student with a fever or cold and flu symptoms must not be in class.